1926 Rolls-Royce Limousine - Henry
Henry, our 1926 Rolls-Royce is fitted with its original Hooper Saloon Limousine coachwork.
Presented in Burgundy and Black, our genuine vintage car illustrates the decadence of a bygone era.
Steeped in history, this very desirable vintage car has been upholstered in light
mushroom leather to complement the original walnut interior wood trim. Passenger seating- 2/3 on rear seat and 1 next to the chauffeur.
By choosing this Rolls-Royce will ensure you are transported, chauffeur driven, in true 1920's
elegance with the car providing the perfect, contrasting backdrop for photographs.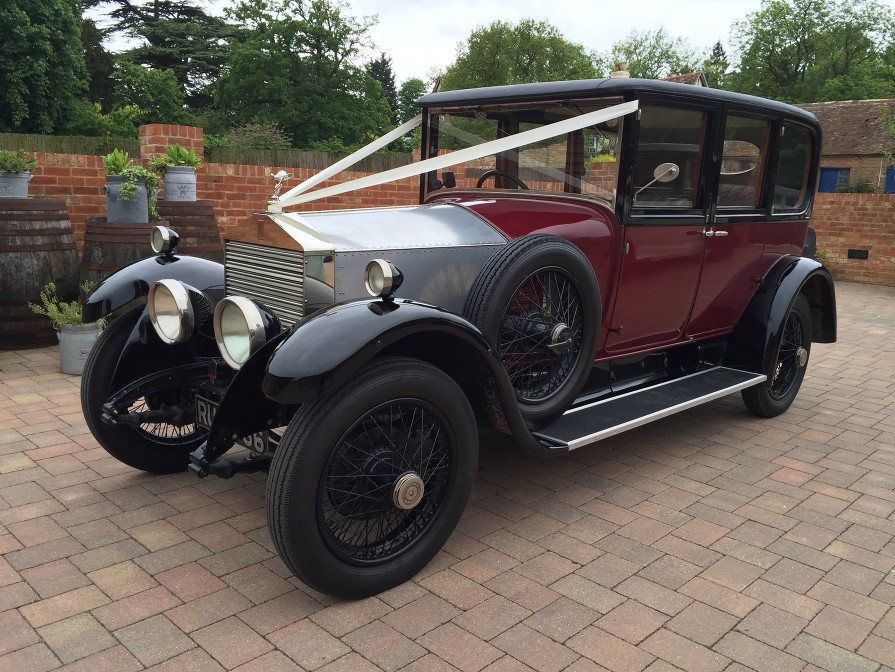 Hi Trevor,

Thank you for your help at Charlotte and Liam's wedding. It was a lovely day made all the better by the use of one of your cars. We didn't expect the driver to allow the new bride and groom to have five minutes to themselves at a scenic spot on the way back- but it was great that he did, on a wet day I think these are almost the only outdoor photo's that they have.

I don't expect to need your services again, as we have run out of daughters to marry off, but we would have no hesitation in recommending you to friends, in fact we already have.

Thanks again for your help,

Kind regards

Mark and Michele